1. Can you tell us shortly about yourself and what was the most important thing that make you interested in and what had an impact to decide start working in this job? Which are most popular clubs where you play?
My name is Joey and I record music under the name BLUSH_RESPONSE. I am from Miami, Florida, and I've been making music for most of my life. I started Blush Response in 2009. Though I make music for a living, it has never felt like work to me. My life has been defined by fascination with exploring sound, and I am lucky to be able to live from it. Some of the big clubs I've played include: Khidi, Berghain, Tresor, and Griessmuehle.
2. Where and when you had the most memorable event?

Khidi is incredible every time. Also playing in Tokyo for the first time, and a castle in Portugal for Forte Festival. Once, at an early Blush Response gig in NYC, Ray Liotta was randomly in the audience. I talked to him after my set and he said to me "you guys sound like Devo! a bit too loud for me!" which I thought was a great compliment and also hilarious.
3. Do you agree that comunication with public is not only playing, there another side as emothional contact with people, isn't it?

I definitely think that music is a form of communication that transcends the limitation of language. It's one of the things I love about sound. I am able to express my emotions in their purest form. When dealing with an audience, or even a home listener, I hope it affects them as much as the creation affected me. In a live situation, there is certainly an interplay between the audience and myself. You can feel the vibe in the room, direct it, and also respond to it. It's a symbiosis.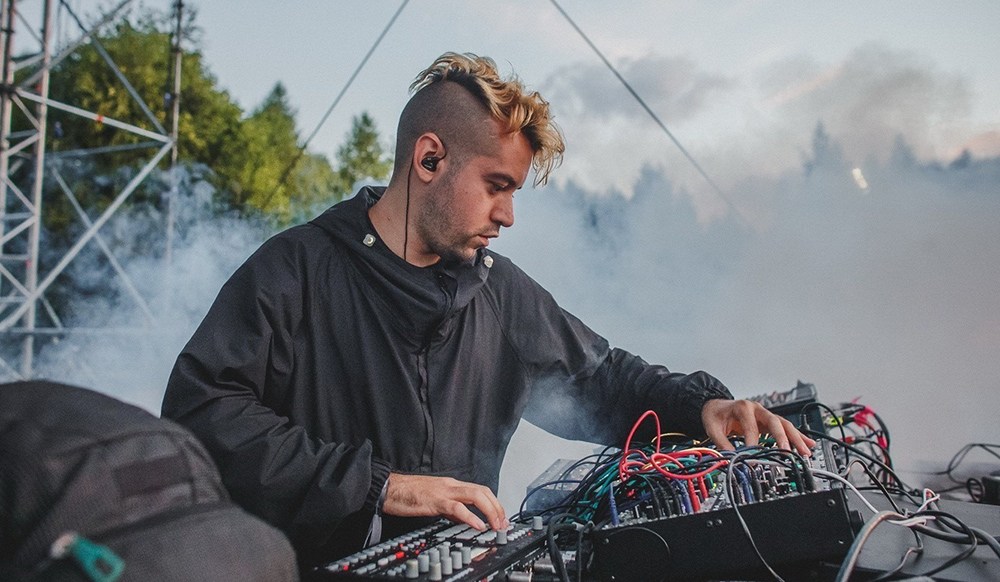 4. At first time I listened to you at Khidi I can surely say that I was impressed. What do you think about Georgian clubs and even Georgian electronic music. On which level do you see it?

Thank you! :) I always have a wonderful time in Georgia, and I hope to go back soon. The Georgian scene is very exciting and I'm happy to have experienced it as much as I have. I know a few Georgian artists (Vulkanski, OTHR, Roman) and I like what I've heard from them. I am usually lost in my own world of creating music so I don't get much time to listen unless someone directly gives something to me. I would love to be exposed to more! :)
5. What advices can you give to the begginer artists?
Dedicate yourself fully to your craft. Become obsessed with developing the best version of whatever it is you want to create. Make your art your life.
6. Can you tell us about your label? Can you introduce it in different sides? And What is your source of inspiration?
Megastructure_ is a place for me to release my own music as well as music from my friends and artists that inspire me. Now that the first release is out (HAKAI), I feel I should have started this label years ago. I enjoy the freedom of being able to issue a release whenever I want, and having a direct line to my fans when presenting music. I also want to give the spotlight to some artists whose music I enjoy. I hope everyone else will enjoy what's to come!
As for what inspires me, literally anything. Every waking moment can provide the impetus for creation. I've said this before, but I have a deep interest in exploring sound and manipulating sound. It could be anything, synthesis, field recordings, sampling from youtube, etc. I am obsessed with sound. My tracks are reports on my explorations in the sonic realm, and the sounds that come out are also a reflection of my state of mind.
Each day provides a different emotional state, which changes the types of sounds my brain gravitates to. A lot of what I do is listening. What I mean by this is that I tweak my machines and listen to what they output until I hear something that excites me. That excitement sparks inspiration to build something more. Only later, upon reflection, do I process the emotional side. Surely I may feel happy or sad or anything else in a day, but I can look back to the music I've made and have a deeper understanding of what was going on at the time it was made. Sometimes I don't recognize myself. Sometimes what was made is inaccurate to how I felt in the moment. The interplay between the will of the machines and my own is another dynamic unto itself. It's endless!
7. And at last, can you disstinct one georgian artist in this industry.
I really enjoyed the Vulkanski release on BITE!
https://www.youtube.com/watch?v=zwQjoRyg6q0